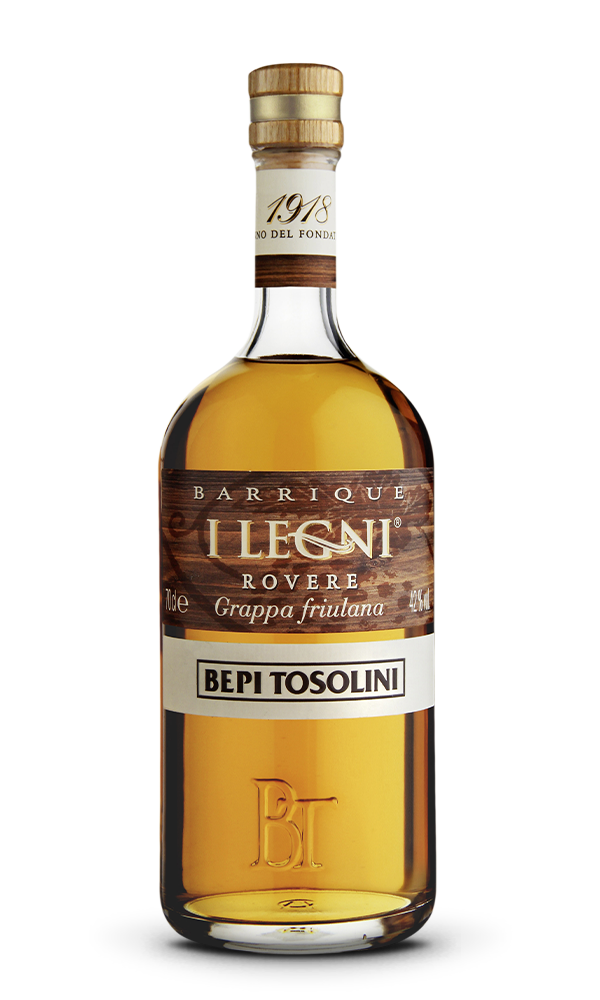 Grappa I Legni Rovere
The LEGNI ROVERE are a noble and selected spirits aged in barriques in the cellar of Bepi Tosolini. A refined combination of flavors and fragrances, where the grappa enhances the warm tones and vanilla perfumed notes with a light amber color, prerogative of oak wood D'Allier.
Spirits of grat personalities that are enhanced by the aromas and flavors of the grat cru chocolate, and become an experience of intense pleasure, combined with your favorite cigar.
Awarded quality sips:
enhance your taste with
our prizes

Gold Medal
Alambicco
D'Oro 2008

Gold Medal
Warsaw Spirits
Competition 2018

Falstaff
Grappa Tasting
2019

Size
0,2L - 0,5L - 0,7L - 1,5L - 4,5L

Varietal
fresh pomace of Cabernet, Merlot, Refosco, Friulano and Moscato grapes

Artisanal Distillation
traditional, manually-operated, bain-marie stills

Degree
42% vol.

Serving suggestions
serve at a temperature of 18/20°C in a classic tulip glass